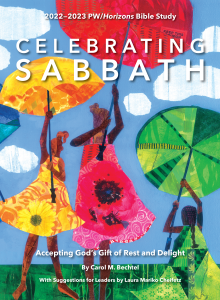 Presbyterian Women: 2022-2023 Bible Study
We meet the fourth Tuesday of each month, September through May, at 10:00AM in the Church Parlor.
Join us as we study Celebrating Sabbath: Accepting God's Gift of Rest and Delight. The concept of sabbath reminds us to honor God, who honors us by giving us a day each week to reset our pace, our priorities, and our lives. This year's study will be facilitated by Rev. Tara R. Thompson.
Presbyterian Women Coordinating Team Officers 2022-2023
Moderator and Historian: Maryann Sweeney
Secretary: Lynn Burnside
Missions, Justice, and Peace: Martha Giarratano
Treasurer: Greta Ott
Members at Large
Congregational Concerns: Ann Latiolais
Birthday Cards: Pat Richard
Seafarer's Center Coordinator: Sally Nichols
Visitation Coordinator:

Shelley Plunkett

Hospitality/Yearbook: Linda Sparkman
Christmas Bureau Coordinator: Valera Messer
Mission Work Day and Bible Study: Maryann Sweeney
/?php get_sidebar(); ?>